WP7 worked on enhancing the engineering process to improve the IEC 61850 standard, with a dedicated demonstrator and a set of functional tests.
The functional tests related to task 7.1 (interoperability) have been finished at R&D Nester laboratory, in Portugal, where the demonstrator for this task is installed.
The interoperability is the ability of two or more devices from the same manufacturer or different manufacturers to work together in a system, with the correct execution of its functions. The international standard IEC 61850 was developed to allow interoperability in electrical substations and other power system facilities.
The demonstrator simulates two substations and the transmission line between them. In each substation, there are devices from several manufacturers, executing control and protection functions.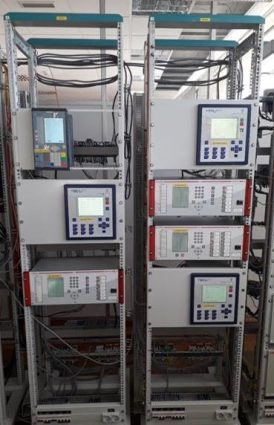 (Credits: R&D Nester)
In task 7.1, a new engineering process (required steps to configure a system) was developed, in line with the future part of the standard IEC 61850-6-100, to which OSMOSE project is thus contributing.
The executed tests ensure that the engineering process was well applied, by checking that the implemented functions are performed according to the specification.
To learn more about the enhancement of the IEC 61850 standard, we invite you to register to our webinar.